High-speed Flat Earband Mask Full Automatic Production Line(1+2)
Function: producing medical flat masks laminated with three layers of fabric.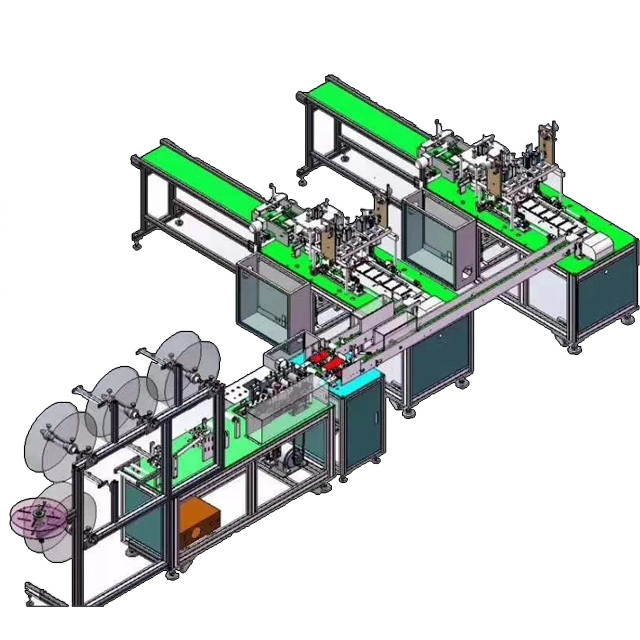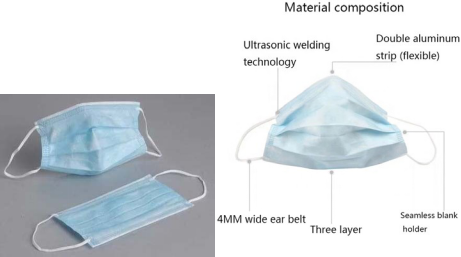 It is an automatic machine to produce the finished face mask ,and to weld face mask by ultrasonic .From material feeding for produce face mask blank to welding the ear-loop, this machine integrate 1 set face mask bank machine with 2 sets outside ear-loop machine by the mask distribution system ,so that improved its automation. Only 2 person are needed to operate.
Production efficiency: 110 tablets / minute
Product (mask) size: 175mm (length) * 95mm (width)
Equipment size: 6.8 meters (length) * 4 meters (width) * 2 meters (height)
Equipment color: RAL9001
Equipment weight: ≤5000KG, floor load 2000KG / ㎡
Working power: 220VAC ± 5%, 50Hz, rated power about 10KW
Air source: 0.5-0.8MPa, flow rate is about 350L / min
Operating environment: temperature 10 ~ 35 ℃, humidity 5 ~ 35% HR, non-flammable, rot Corrosive gas, no dust (cleanliness no less than 100,000)
Production qualification rate: 98% (excluding raw material problems and improper personnel operations)


Configuration:
PLC
Sensor: P+F/Omron/SICK
Touch Screen
Servo: Siemens
Solid state power: Omron
Inverter: Schneider
Cylinder: SMC
Air switch: Schneider
Temperature controller: Omron
Power switch: Schneider
Button: Schneider