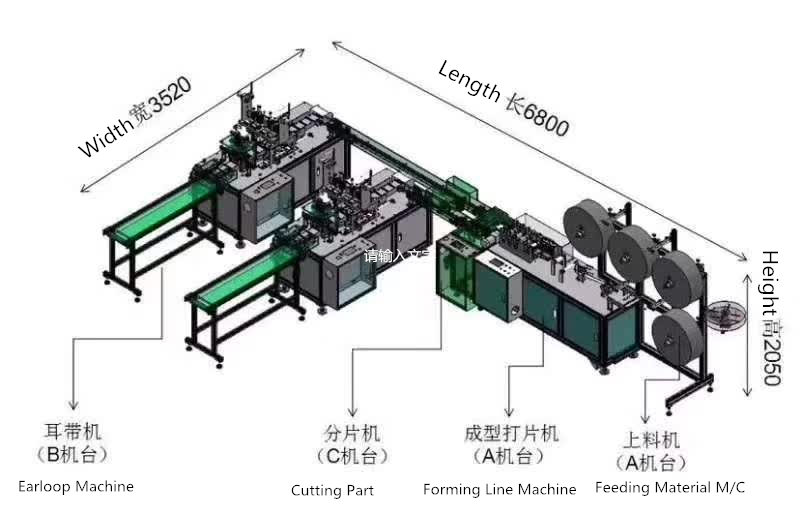 Machine Feature:
1. Aluminum alloy structure, beautiful and firm without rust.
2. Computer PLC programming control, high stability, low failure rate, less noise.
3. Imported servo motor, stepper motor drive, high precision.
4. Photoelectric testing of raw materials to avoid mistakes and reduce waste.
5. One body can be connected to 1-3 inner ear belt machines or outer ear belt machines as required.
6. The machine adopts pulley and fixed foot, convenient and quick to move, strong fixation, and unwavering.
7. This machine is equipped with new advanced conveyor belt, with high accuracy, no manual counting, only sorting and packaging.
8. The equipment can be modified according to product requirements, product size, length and thickness.
9. Different ear belt machines can be configured according to different production orders, which is economical and practical.
Installation and configuration requirements:
1. Machine Size:approx L6800mm X W3520mm X H2050mm
2. Machine Color:RAL9001
3. Machine Weight:1500kgs; The ground bearing≤500kg/㎡
4. Work Voltage: 220VAC±5%,50HZ,Power:10KW
5. Compressor Air:0.5-0.7 Mpa; Service flow contract :300L/min
6. Operating environment: temperature 10-35℃, humidity 5-35%HR, no inflammability, no corrosive gas, no dust (cleanliness not less than 100,000)


Production capacity of equipment:
1. Production efficiency:120-140pcs/min
2. The equipment produces a pass rate:99%((the incoming materials do not meet the requirements, except when the staff improper operation)
3. Equipment Failure Rate:2% (refers to the fault caused by the equipment itself)
Production Specification:
The Standard:175X95mm